>
Our Expertise
>
Consulting
Consulting
Introducing policy and technical consulting services
KDS provides professional consulting services to public and private sectors in developing countries by leveraging Korean and world-wide international development best practices and globally-proven advanced technologies.
Formulation of National Development and Poverty Reduction Strategy
Formulation of Sector Strategies
Project Designing and Feasibility Study
Project Implementation and Performance Management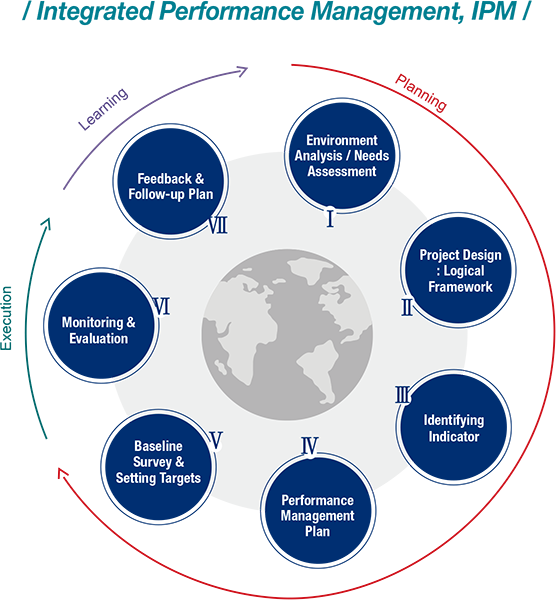 KDS developed 7-step 'Integrated Performance Management (IPM) Framework' which combines performance and project management based on the results-based MEL methodology of international organizations such as USAID, UN, and World Bank.
Major Credentials
Economic Development

2016/17 KSP with the Kyrgyz Republic

2015~2017, KDI

Establishment of human resource management, financial management, and regional development strategies for sustainable development.

Finance & Public Finance

2019/20 KSP with the Philippines

2020, KDI

Policy Consultation on Integrated Public Finance Management System of the PhilippinesPolicy Consultation on Integrated Public Finance Management System of the Philippines

Education/ TVET

PMC service for the Capacity Enhancement of Korea-Sudan Khartoum VTC in the Republic of the Sudan

2020~2024, KOICA

The Project aims to provide Sudan with quality technical and vocational education and training by improving the capacity of Korea-Sudan Khartoum VTC (SKVTC).

Governance

The Project for the Establishment of National School for Administration (NSA) in Palestine

2016~2021, KOICA

The Project is aimed at strengthening the capacity of civil servants of PNA through development of continuous training program

Industry and Trade

Feasibility Studies for Bole Lemi industrial Zones

2014, World Bank

Conducting market, technical, and financial feasiblity study of two industrial zones in Ethiopia funded by the World Bank.

Social Economy/ Employment

Collaborative Performance Management for Public-Private Partnership Projects on Social and Solidarity Economy

2019~2022, KOICA

Development of operation improvement plan for improving the effectiveness of KOICA's Social Solidarity Economic Program.

Agriculture and Rural Development

The Project for Establishment of the Agricultural Marketing Center in Myanmar

2018~2023, KOICA

The purpose of this project is to improve agricultural products value chains through the Agricultural Marketing Center(AMC) in Myanmar

S&T/ICT

Project for Capacity Building of E-Government in Niger

2013~2019, KOICA

The purpose of the project is to improve efficiency and transparency of public administration service in Nigeria through establishing a Master Plan and conducting various capacity building programs.

Energy, infrastructure and Environment

The Project for Promoting Investment Market for Energy Efficiency in Industrial Sector in Vietnam

2017~2020, KOICA

Capacity development of Energy Audit and ESCO companies for improving Energy Efficiency in Vietnam industry.

Gender

Project on Prevention and Elimination of Violence against Women for Mainstreaming Gender into the National Development Agenda in Lao PDR

2020~2024, KOICA

This Project aims to establish Counselling Center for Prevention and Elimination of Violence Against Women (EVAW Center) in Vientiane, develop the center operation system, and build training system of local specialized counselors for violence against women (VAW).